$6,000 Scholarship for Military Spouses
At Bryant & Stratton College Online we are proud to support our troops, and you – the spouses – who also deserve the support of your country. We understand that when a spouse serves in the military, the whole family does too. Based on experience with successfully serving the educational needs of military veterans, retirees, active duty personnel and their families, Bryant & Stratton College Online created the Salute to Spouses scholarship after the U.S. government temporarily suspended MyCAA in 2010.

Salute to Spouses Scholarship
With the Salute to Spouses scholarship, spouses of active duty military personnel are eligible to receive $6,000 towards a Bryant & Stratton College Online degree. We know that it's not always easy living the military lifestyle, so we want to give you the opportunity to also pursue your career goals and earn your degree.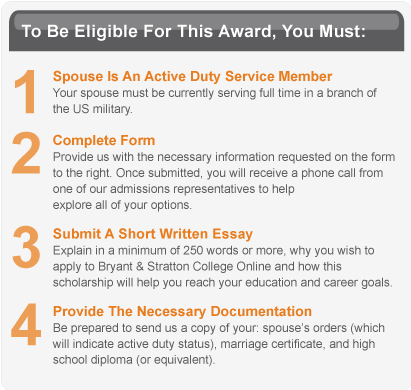 Bryant & Stratton College: An Education Leader
Bryant & Stratton College is a leader in Online Associate Degrees. Offering 11 Associate degrees and 4 Bachelor degrees, we cover all of your education needs. The flexibility of our online degree programs cater to the hectic lives of military families. As long as you have access to the internet you can work on your degree from anywhere in the country or world; in fact some of our students are even active duty soldiers working on their degrees in Iraq. Take advantage of this excellent opportunity today and pursue the career you've always wanted.